GIULIANA BALICE 1974-75
opening 18.10.2022
dates 19.10.2022 – EXTENDED 16.12.2022 
ZUECCA PROJECTS, in collaboration with COLDEFY architects and FONDAZIONE TOMASSONI, is glad to announce the exhibition "GIULIANA BALICE 1974-75" dedicated to the Italian artist Giuliana Balice. Hosted at Coldefy Studio in Paris (4 Rue des Petits Pères), concurrently with Paris+ par Art Basel, this solo presentation marks the beginning of a series of shows dedicated to the intersection between Art and Architecture, explored from a stylistic as well as historical perspective.
Art and Architecture have always intertwined their paths: from movements such as Constructivism, Neoplasticism or Minimalism, to the interest of the artists for geometry, form and space; from the experimentation with materials and surfaces in both disciplines, to the relationship with landscapes and environment.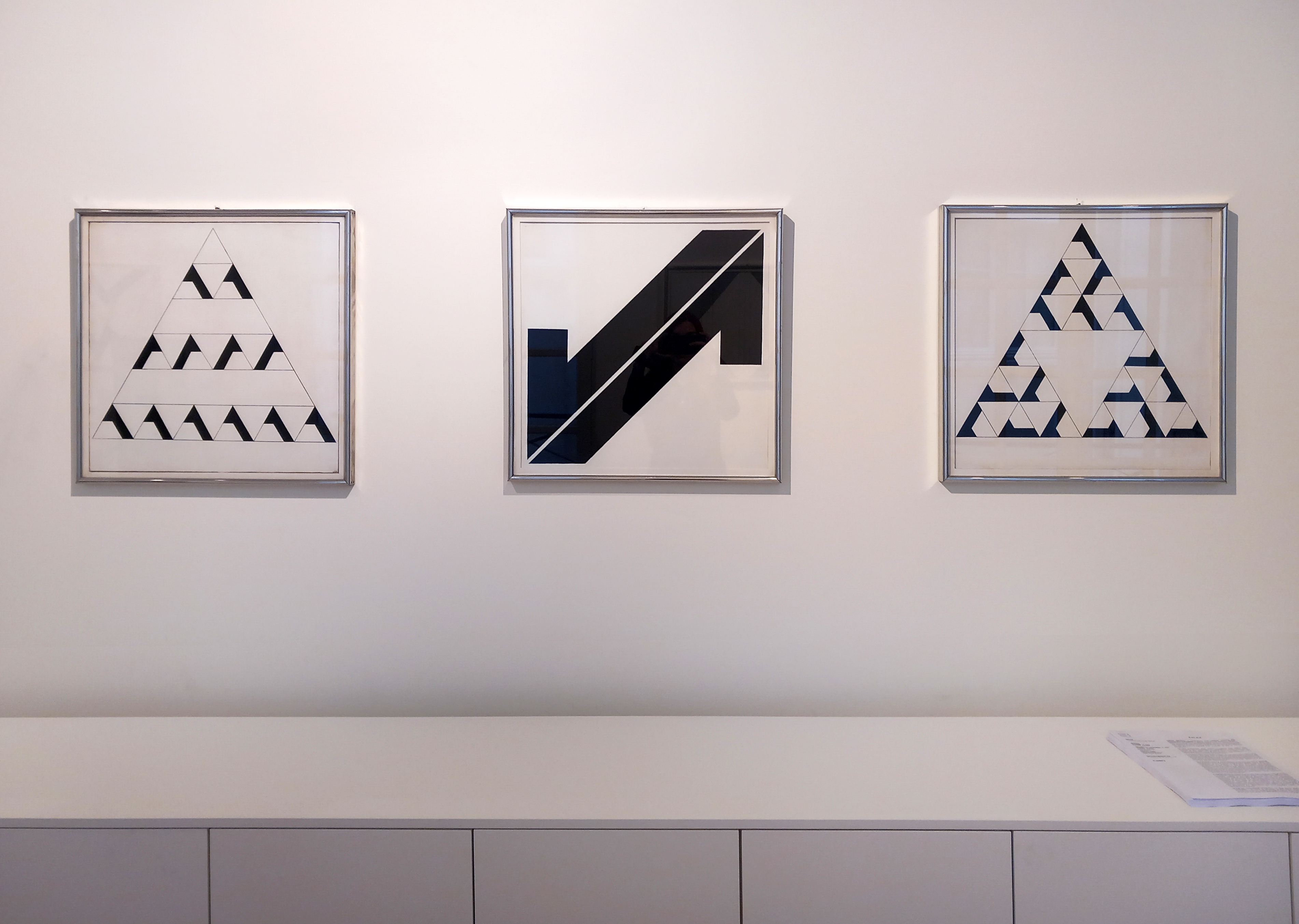 As stated by architect Thomas Coldefy: "Art and architecture have a deep connection; they both have a meaning simultaneously expressive and communicative whether it is a set of complex ideas or a livable space, they engage the senses and are both mankind form of cultural expression. Our work strives to blur the limits between the elements: Balice's work and exhibition take part in that process".
The first show from the series, presents a curated selection of paintings and sculptures from the '70s by Giuliana Balice (Naples, 1931), which are emblematic of her interest in geometry, pure forms and graphic interpretation of the space. In the spirit of Russian Constructivism, Bauhaus, Concrete art and De Stijl, Balice's oeuvre prioritizes geometric abstraction and minimalism. For the artist, creating means first of all designing and then making. Each of Balice's artworks therefore retains the rigor of design and the essentiality of modular partition. Swiss-Italian architect and father of Rationalism Alberto Sartoris, defined Giuliana Balice's artistic practice as "architectural aesthetic absolutism".
As highlighted by the curator and art critic Italo Tomassoni "the geometric investigation conducted by Giuliana Balice in the years from 1967 to 1974 concedes nothing to the optical grammar nor to the perceptual involvement induced by gestalt psychology, often used as a theoretical motivation for the Kinetic Art. Like heraldic forms, the serial geometric variations of these works are shapes inspired by the interwar European rationalism, immersed in the restlessness of the most stringent contemporaneity, yet drawn from the lost regions of a symbology of perfection and exact relationship that refers back to Pythagoras of Samos, the 6th-century B.C. philosopher, son of a beautiful mother and a celebrated seal engraver".
Among her international recognition, in 2009 Balice participated in "1919/2009 – 90 Years of Bauhaus" at the Forum Konkrete Kunst-Peterskirche museum, curated by Heidi Bierwisch. The catalogue raisonné of her work and career was published by Skira at the beginning of 2022.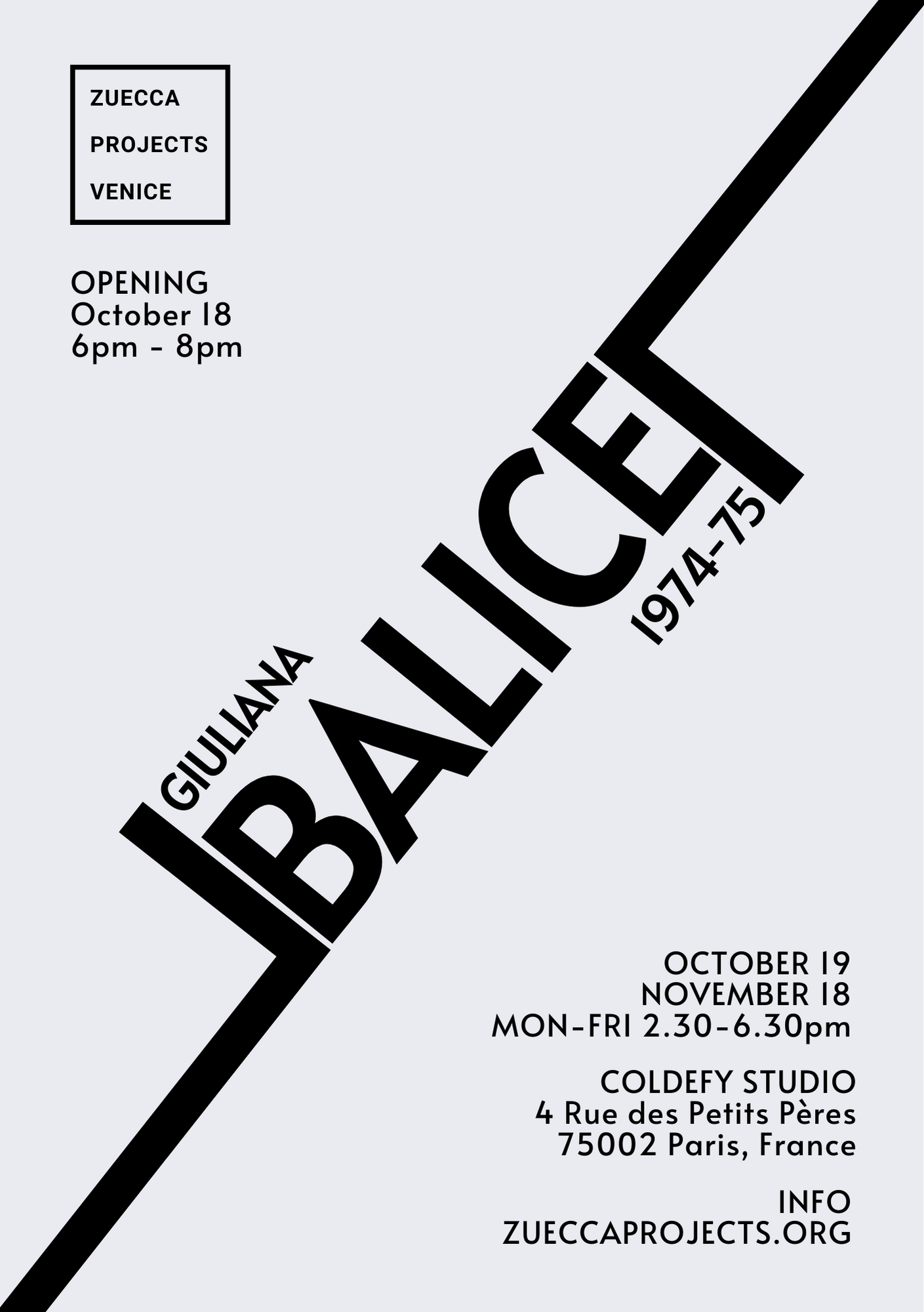 GIULIANA BALICE 1974-75
Curated by Alessandro Possati 
OPENING: OCTOBER 18, 2022
6.00 PM – 8.00 PM
RSVP essential: info@zueccaprojectspace.com
OCTOBER 19 – EXTENDED: DECEMBER 16, 2022
MONDAY – FRIDAY
2.30 PM – 6.30 PM
Free access
COLDEFY Studio
4 Rue des Petits Pères
75002 Paris, France