CHRISTO: WRAPPED PAINTINGS
ART BASEL MIAMI BEACH 2021
dates 30.11.2021 – 04.12.2021
Alessandro Possati from Zuecca Projects and Christopher Taylor are glad to offer a selection of Wrapped Paintings by Christo during Art Basel Miami Beach, from November 30 to December 4, 2021. The works will be part of Cardi Gallery's booth A3. This presentation is possible through the collaboration and support of the Estate of Christo and Jeanne-Claude and Cardi Gallery.
Internationally renowned for his wrapped artworks, Christo's practice transcended the traditional bounds of painting, sculpture, and architecture.
After he arrived in Paris in March 1958, free from all the imposed socialist precepts from which he escaped when he left Bulgaria in 1956 and inspired by the avantgarde art – not considered a taboo in the Western Block – Christo initially began to excitingly experiment an exuberant mix of styles. In his tiny studio, works of all kinds gathered up: from Cubist- or Fauvist-inspired still lifes and landscapes to abstract drawings, paintings, reliefs, and sculptures. He stoically ignored the fact that no one wanted to buy his work and, to survive, he exploited his innate talent for drawing and did what he would later call "prostitution": he painted portraits of wealthy society ladies. This is how, in October 1958, he met Jeanne-Claude, whose mother commissioned Christo some family portraits. At first it was a friendship, then love, and finally, a life-long artistic partnership.
At the end of the 50s Paris was still at the center of the international art scene, even though New York was increasingly outstripping it. In Paris, and on several trips to Germany, Christo met the protagonists of the European and American avantgarde, including Karlheinz Stockhausen, John Cage, Joseph Beuys, and Nam June Paik. Under the influence of a progressive art scene that was busily exploding all conventions, Christo began to "appropriate" everyday objects, divesting them of their function and permanently preserving them for posterity by wrapping them.
While he covered the first "wrapped" objects—mostly empty paint cans and glass bottles—with a layer of glue, sand and gloss paint to create an encrusted, haptic surface, he soon began to let the material "breathe," so that the work was subject to constant change. It was only later that Christo started to experiment with the contents of his wrappings as well, using transparent polyethylene so that one can at least guess at the content of his tied-up objects.
Christo's wrapped paintings also investigate the concept of memory and time. The large-scale, site-specific projects are inherently exceptional due to their temporary nature; once the project is dismantled, the experience lives on only in one's memory, as well as the accompanying drawings and printed matter. Conversely, the wrapped canvases suggest the possibility of an unveiling that will never come, inciting the viewer to look forward to a hypothetical moment as opposed to meditating on a past experience.
The presentation at Art Basel Miami Beach follows the previous Christo's exhibitions organized by Zuecca Projects at NOMAD St. Moritz – in collaboration with Christopher Taylor; in Paris in celebration of L'Arc de Triomphe, Wrapped – in collaboration with Christopher Taylor and Cahiers d'Art; at Frieze Masters 2021 and Abu Dhabi Art fair 2021 – in collaboration with Christopher Taylor and Colnaghi.
The proceeds from works' sales will benefit the Christo and Jeanne-Claude Foundation.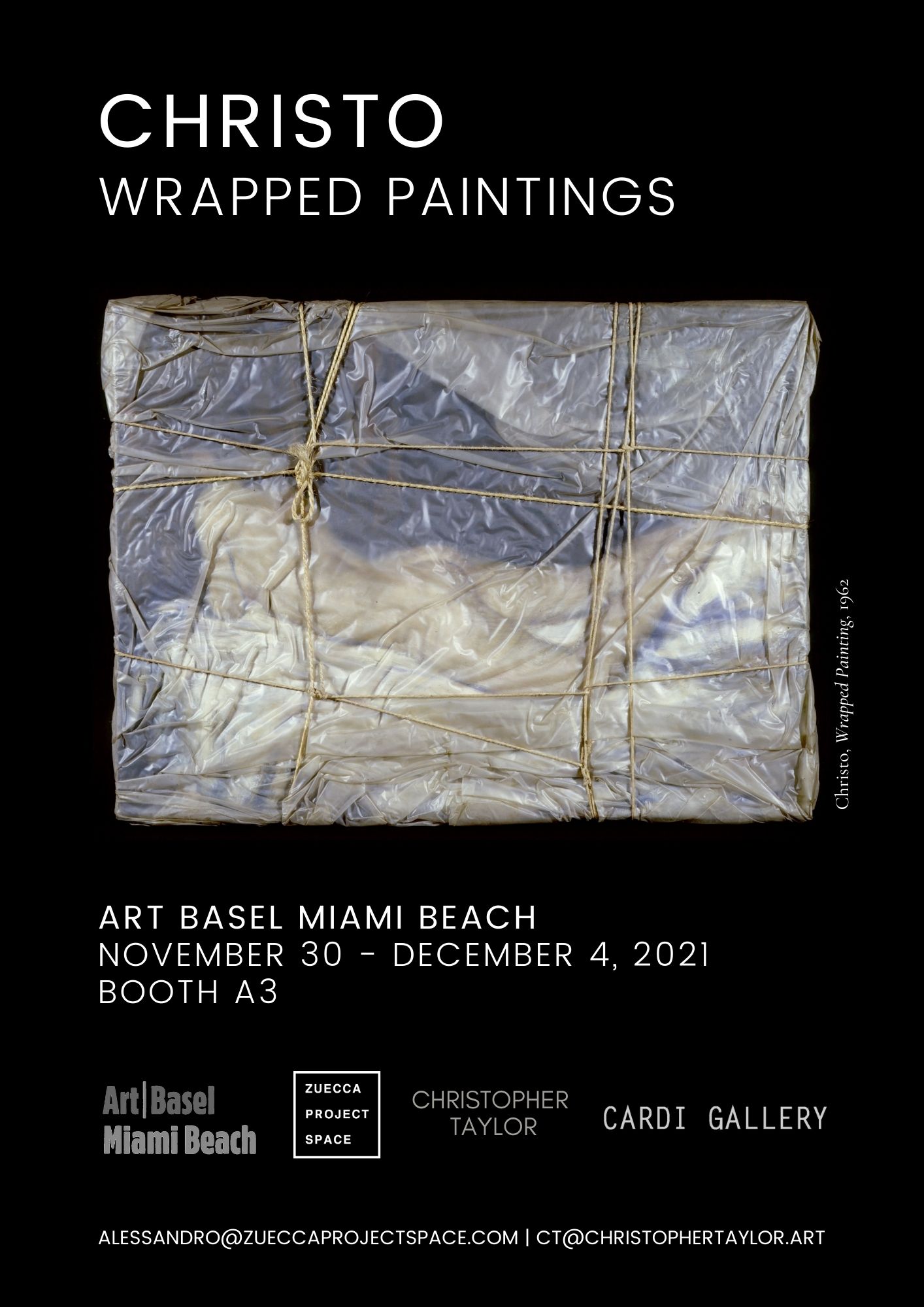 CHRISTO: WRAPPED PAINTINGS
Art Basel Miami Beach – Cardi Gallery, booth A3
November 30 – December 4, 2021
CONTACT
Alessandro Possati: alessandro@zueccaprojectspace.com