MONOLOGUE FOR TWO by Michele Spanghero
opening 14.09.2017
dates 15.09.2017 – 21.09.2017
During the second edition of the CHICAGO ARCHITECTURE BIENNIAL (September 16, 2017 – January 07, 2018), Zuecca Projects is proud to present the exhibition "MONOLOGUE FOR TWO" by Italian sound artist Michele Spanghero, curated by Alessandro Possati (Director of Zuecca Projects).
"MONOLOGUE FOR TWO", hosted in the Ballroom of SAIC, presents an immersive video installation in which the artwork "Monologue – Fenice" (2016) creates a dialogue with the unreleased new work "Monologue – Lyric Opera House" (2017).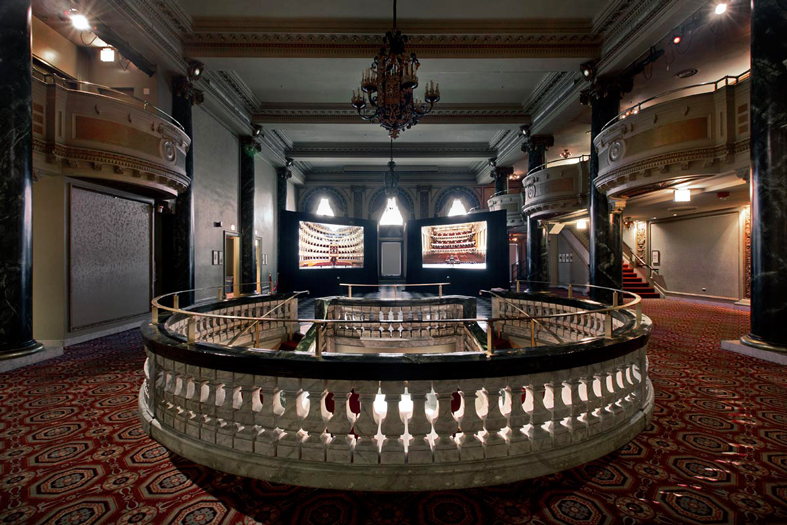 The two videos show the process of ambience recording of the empty Gran Teatro La Fenice in Venice and the Lyric Opera House in Chicago: starting from silence, the layerings of the recordings make the theaters resonate. With silence the theaters are in darkness, but, as the sound rises, the lights slowly grow up to reveal the halls and, in backlight the artist alone on stages, carefully listening to the sound of the "voice" of the theaters.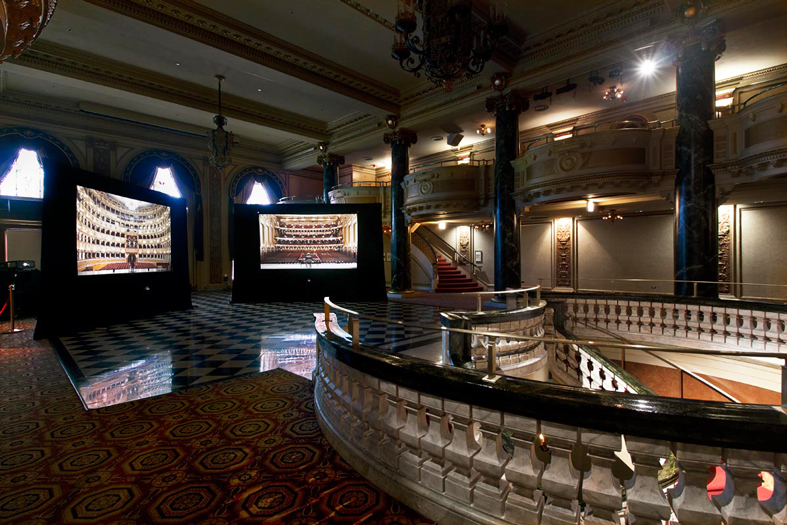 The project is inspired by the heritage of theatrical architecture, which always had a very important role in developing social structures. It is focused on the correlation between space and sound in historic theaters, and it creates a bridge between two nations (Italy and United States of America) by connecting the architecture of the historical Italian theater with one of North America's most beautiful opera houses. A bridge through architecture, culture, beauty. And, of course, sound.
Not surprisingly, the project underlines also the dialogue between two cities leading for their architecture manifestations: the Chicago Architecture Biennial and the Venice Architecture Biennale.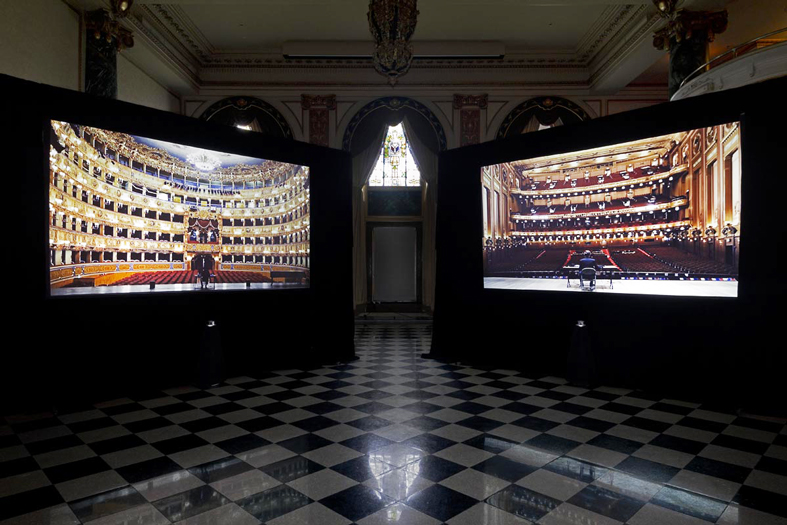 The ongoing project Monologues (started in 2014) is inspired by the Italian theatrical architectural heritage. So far twelve among the most important theaters in Italy (such as Teatro Fenice in Venice and Teatro San Carlo in Naples) were already involved in the project.
"MONOLOGUE FOR TWO" is the development of the project started during EXPO CHICAGO 2016 when the artist visited and recorded the Lyric Opera House, home of Lyric Opera of Chicago, as a starting point for an evolution of "MONOLOGUE" focused on the American historical theaters.
In partnership with Lyric Opera of Chicago, SAIC.
In sponsorship with Bang & Olufsen, Hausbrandt Trieste 1892 S.p.a.
MONOLOGUE FOR TWO by Michele Spanghero
Opening: September 14 | 06 PM – 09 PM
September 14 > September 21, 2017
SAIC Ballroom | 112 South Michigan Avenue, Chicago