TROPICALIA and Building for a Sustainable Future
Digital Conference
27 October, 4.00 pm CEST
TROPICALIA and Building for a Sustainable Future is an event hosted by Zuecca Projects and Coldefy, inviting leading architects, engineers and developers to discuss pertinent issues of designing and building for today and tomorrow from their respective perspectives.
Beginning with a presentation about TROPICALIA, the world's largest single-domed greenhouse currently under planning in the North of France, the event will unveil a series of notable projects of today, including large scaled commercial wood constructions in Paris and energy-positive residences, and will generate a discussion around current and future buildings that aim to make our world a healthier place.
The event will be composed of a series of short presentations, followed by a round table discussion led by Thomas Coldefy and Alessandro Possati.
Speakers: Cedric Guerin, Tropicalia; Philip Wilson, Eckersley O'Callaghan; Morgane Scoarnec, Novaxia; Thierry Bievre & Alan Kirsch, Elithis; Oliver Schütte, A-01 (A Company / A Foundation).
Moderated by Thomas Coldefy and Alessandro Possati
---
SPEAKERS
Dr Cedric Guerin – Tropicalia
Founder and President
Dr. Cédric Guérin has always been passionate about nature.
After living part of his childhood in Africa, he became a veterinarian, multiplied professional experiences, and quickly turned to NAC medicine. Eager to share his passion, Dr. Guérin invented the Tropicalia concept in 2009.
His goal: to amaze people to make them want to learn and respect their environment.
Philip Wilson – Eckersley O'Callaghan
Director, BEng MSc CEng MIStructE  
Philip runs Eckersley O'Callaghan's Paris studio. He has over 25 years of experience as a structural and façade engineer, working in the UK and Japan before moving to France in 2004.
Before joining EOC in 2016, Philip was the Director of Spatiale, an engineering consulting firm he founded in Paris, before working at Dewhurst Macfarlane and Partners, Structural Design Group (Tokyo), Sir Alexander Gibband Partners and Balfour Beatty Construction.
Philip has designed many innovative designs for challenging construction projects in France, including Lafayette in Paris, FRAC in Ile-de-France and RUNGIS ZAC. He provides creative structural design advice to architects, manufacturers and clients in France, the UK and abroad.
Philip has published publications and lectured on glass structures in schools of architecture, including the Bartlett School of Architecture and The Architectural Association.
Thierry Bievre – Elithis
Chief Executive Officer and Founder ​
Thierry BIEVRE is the President & Founder of Elithis Group whose goal is to make positive energy accessible to everyone by responding to the 21st century greatest challenges such as the energy crisis, energy insecurity, and global warming. After completing in 2009 the Elithis Tower in Dijon, the world's first energy-positive office building, Mr. Bievre wanted to deliver the same performances to the residential sector and in 2018 completed the Elithis Danube Tower in Strasbourg at a "Zero Energy Bill".
Thanks to the Catella partnership, Elithis will continue its real estate development with hundreds of projects of a similar type in France and the rest of Europe. Since 2016, Mr. Bievre has also chaired the Fibres-Energivie Competitiveness Cluster.
Alan Kirsch – Elithis
Head of Business Development & Investor Relations
Mr. Alan KIRSCH is a high-energy and passionate architect interested in the business development side of the operation. Mr. Kirsch holds a bachelor's degree in Architecture and has worked in fascinating projects in his diverse international background. As Elithis' Investor Relations Manager, he carries full responsibility of managing communication between Elithis team and their investors. As Head of Business Development, he is also responsible of creating new ventures pushing their limits further and making their high-efficiency and energy-positive projects accessible to all.
Mme Morgane Scoarnec – Novaxia
Directrice des Opérations
Morgane Scoarnec graduated from HEC in 2007. After 10 years at Unibail Rodamco Westfield, she was appointed Leasing & Culture Director of the Europa City project, where she was in charge of retail and cultural partnerships. She joined Novaxia in 2020 as Director of Operations. She coordinates 50 real estate projects in offices, housing and hotels.
Oliver Schütte – A-01 (A Company / A Foundation)
Founder
Architect Oliver Schütte is an expert for sustainable development and construction with more than 20 years of professional experience.
After working with globally renowned offices such as Eisenman Architects, as well the Office for Metropolitan Architecture (OMA) and its research counterpart Advanced Media Operations (AMO), Oliver co-founded the interdisciplinary think- and do-tank A-01 (A Company / A Foundation) together with Dutch anthropologist Marije van Lidth de Jeude.
The office is known for developing innovative concepts and projects that are based on participatory design methodologies, such as Costa Rica's first urban river park in Ciudad Colón, the country's first public bike system in Cartago, an integral mobility concept for the region of La Fortuna, as well as the internationally operating Popular School of Urbanism.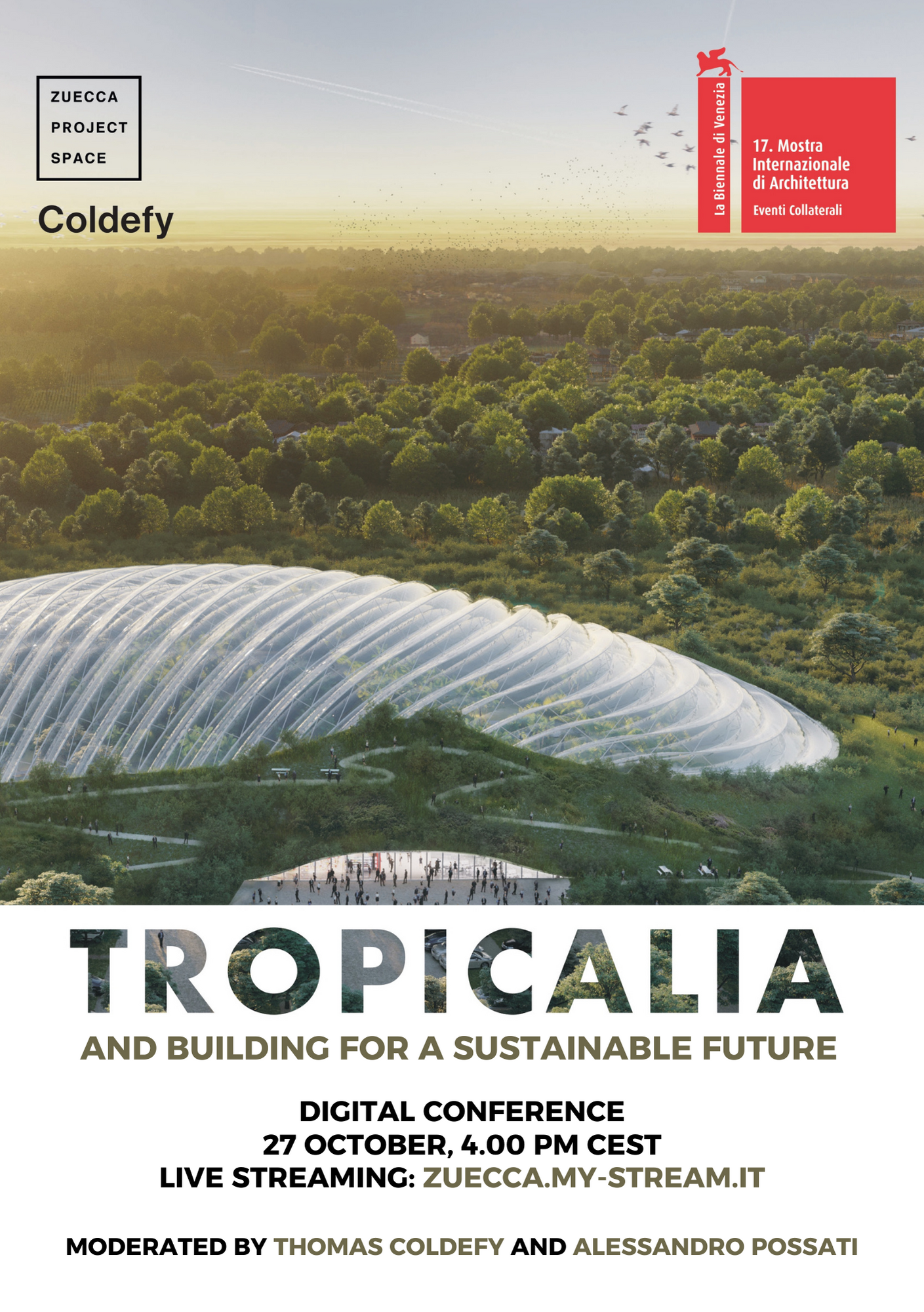 TROPICALIA and Building for a Sustainable Future is part of the program of the exhibition Tropicalia – Architecture, Materials, Innovative Systems, Collateral Event of the 17th International Architecture Exhibition – La Biennale di Venezia, currently on view in Venice, at Squero Castello (May22 – November 21, 2021).
Contact: info@zueccaprojectspace.com