UTOPIA
Atelier Van Lieshout sculpture park in Saint Tropez
dates 13.07.2022 – 28.08.2022
Zuecca Projects is excited to present UTOPIA, an Atelier Van Lieshout Sculpture Park and exhibition in the cellar of Château Saint-Maur, Saint Tropez. Curated by Alessandro Possati and Natalie Kovacs, UTOPIA is part of the second edition of MINIMO, an annual arts project organized by Ars Belga at the Château, in collaboration with Saatchi Yates, Aktis Gallery, Zuecca Projects and C1760 Gallery.
Borrowing its title from a work of the same name, "Utopia" is a sculpture exhibition consisting of 10 works by Atelier Van Lieshout at Château Saint-Maur in Saint Tropez. Visitors are invited to journey to a place with neither noise nor news, but perhaps a bit of wine.
An ongoing theme in Van Lieshout's work, "Utopia" has been expressed in seminal and legendary works such as "Autocrat", "Women on Waves", "AVL-Ville", "Domestikator" and most recently at documenta fifteen with "Mama-Werner". In "Utopia" the journey is the destination. In this context, the exhibition satiates that which we may all crave: a different time, space or tempo. This constellation of sculptures perfectly punctuates a promenade or 'balade', seducing us with an idyllic escape.
– Natalie Kovacs
Complete press folder: drive.google.com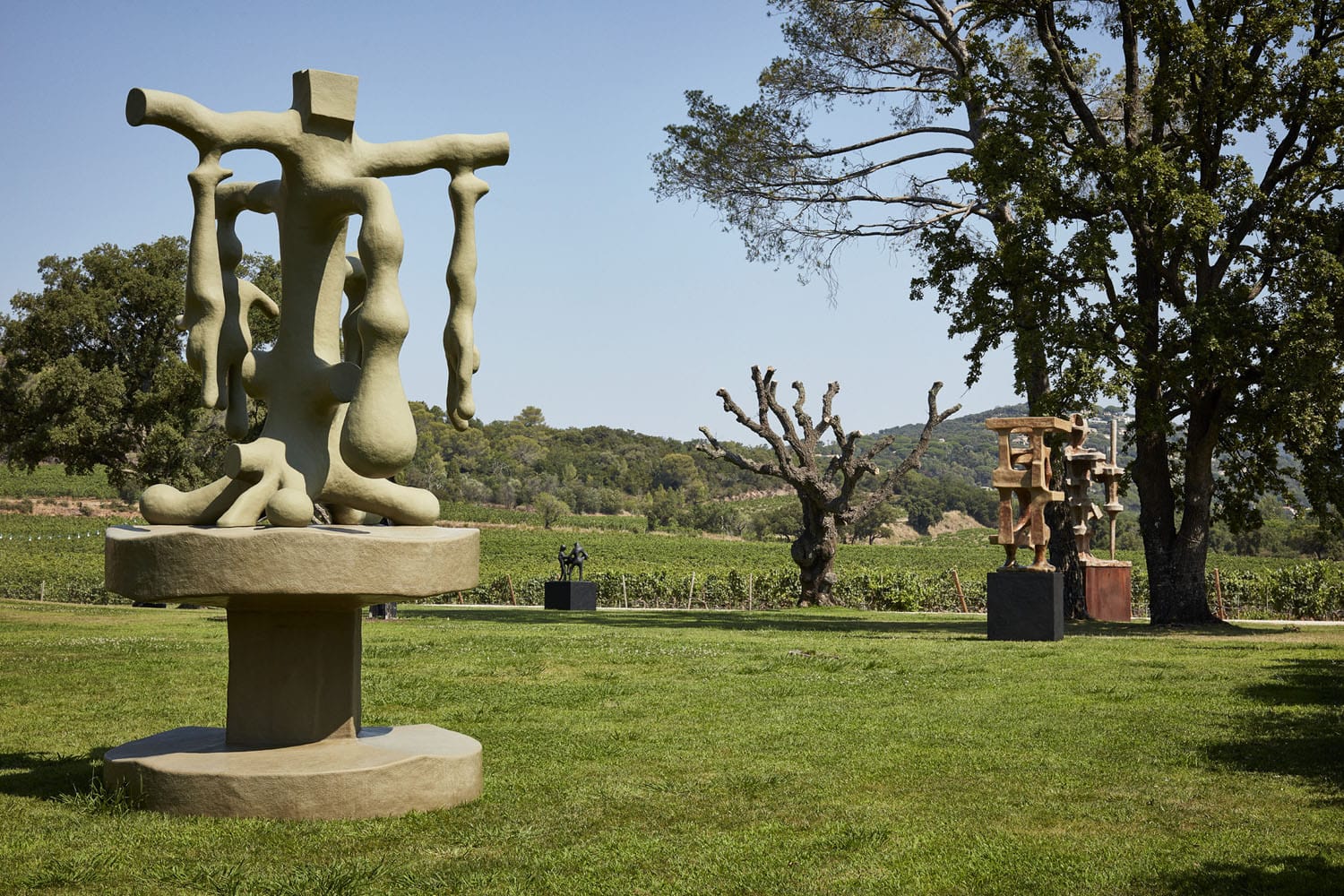 Atelier Van Lieshout, Tree of Life, 2016. Install shot, UTOPIA, Château Saint-Maur. © Atelier Van Lieshout. Photo by Antoine Lippens
Atelier Van Lieshout (AVL) is the studio practice of Rotterdam-based artist Joep van Lieshout. Since its founding in 1995 Van Lieshout has been working solely under the studio's name as a methodology towards undermining the myth of the artistic genius. Over the past three decades AVL produced a multitude of works on the border of art, design, and architecture. These works share a number of recurring themes and obsessions, such as systems, power, autarky, sex and life and death. AVL is internationally renowned for sculptural installations which harbour a controversial, sinister and playful tone.
Exhibited artworks by Atelier Van Lieshout: Family Lamp (2007), Buffel (2011),  Descent (2013), Tree of Life (2016), The Philosopher (2017), Family (2020), Utopia (2020), Muze (2022), Maria (2021), Knights (2022).
First image: Atelier Van Lieshout, Utopia, 2020. Install shot, UTOPIA, Château Saint-Maur. © Atelier Van Lieshout. Photo by Antoine Lippens

"UTOPIA"
Co-curated by Alessandro Possati and Natalie Kovacs
JULY 13 – AUGUST 28, 2022
Daily, 11.00 AM – 7.00 PM Free access
COCKTAIL RECEPTION: JULY 17 at 5.00 PM
CHÂTEAU SAINT-MAUR
D48, 535 route De Collobrières
83310 Cogolin, France