Vanquished by the Fickle Goddess
opening 23.02.2018
dates 24.02.2018 – 25.03.2018
Carly Mark and Daniela Lalita create exaggerated, augmented characters based on perceived archetypes.
While Lalita delves deep into her understanding of "the mother" and its multifaceted idiosyncrasies, Carly develops her own complex characters based on our internet or social media-based personas. Unlike many new media artists who delve into similar investigations, these characters do not just exist online but perform IRL and exist as life-size sculptures or relics of the videos they initially inhabit. In this way, the characters themselves behave as potential costumes that we could each put on ourselves.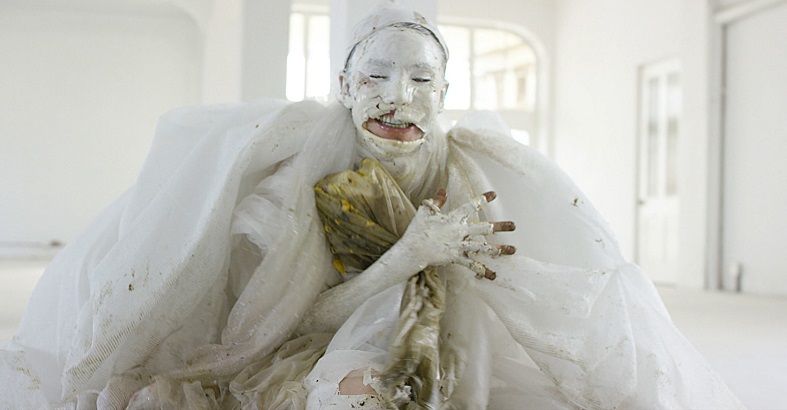 "Madre" by Daniela Lalita. Still image courtesy of the artist
Vanquished by the Fickle Goddess, curated by Antonia Marsh, presents primarily video work by both artists, supplemented and intensified by photography and other traces of the processes that shape their practices.
In "Madre: A Disruptive Environment" at The Aula in New York last year, Lalita enveloped nine actors in sculptural costumes and monstrous makeup who then performed a series of repeated actions. Together, these characters plus their delegated movements around the space represent archetypes of the mother, an idea galvanised for the artist by the work of Swiss psychiatrist and psychoanalyst Carl Jung. Pre-empting the screening of "Madre" that focuses on one central mother figure, these collective performers – visible at Spazio Ridotto in documentation shot by photographer Rebekah Campbell – develop a mythology initiated by the film that soon immerses the viewer IRL. Lalita invites the viewer to enter into another world, an alternative dimension bizarrely similar to our own.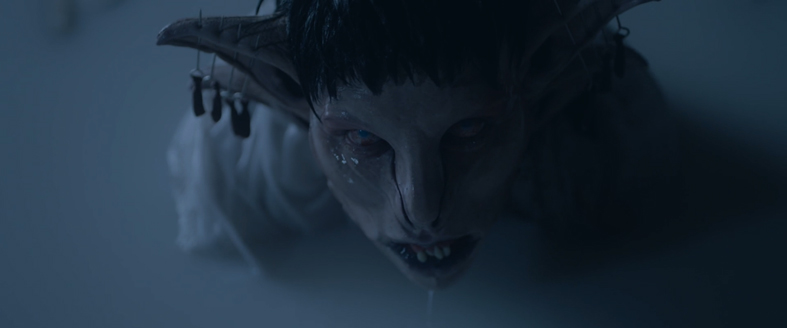 "Know Nothing" by Carly Mark. Image courtesy of the artist
Similarly teasing her characters out into the gallery space, Mark displays the chain-adorned fluffy cap that her "Rat" character wears in two earlier videos. Furthermore, artist Nick Sethi's quasi-abstract image of the discarded prosthetic alien-like mask of the lead figure in "Know Nothing" further complicates our understanding of the artist's work. What realm do these characters inhabit? What resides behind their masks? Is mask-making and character-building now absolutely omnipresent online, and to what extent can we rely on our own authenticity?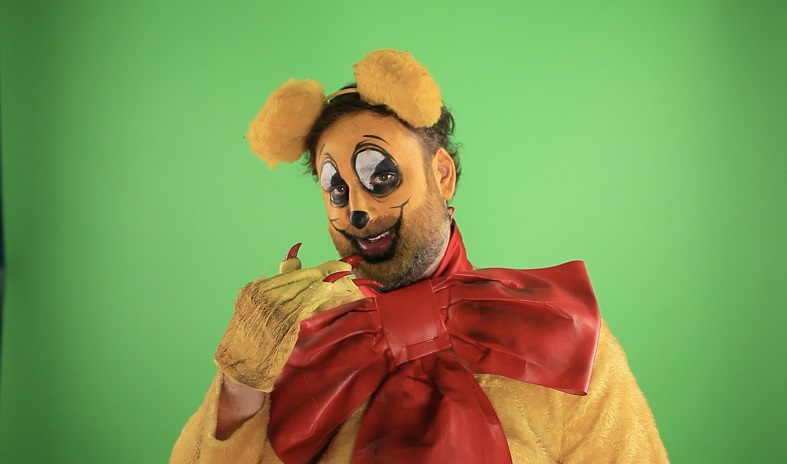 "Screen Tests Gold Bear II" by Carly Mark. Image courtesy of the artist
For this exhibition, Mark reveals her process of character development through three "screen tests" that show "Tiger", "Cake" and "Gold-Bear" each reciting their lines in depraved repetition. Over the last five years, Mark has developed a cast of anthropomorphic characters that allow the artist to explore herself as well as human nature more broadly. Grotesquely dementing and vigorously augmenting reality, Mark's characters incite discomfort, disease, and a failed sense of security in her audience. The artist continuously parodies consumerist behaviours alongside sexual and gender stereotypes based off her real interactions and relationships with her surroundings, as well as our collective online experience. Together, these artists' work proposes that however uncomfortable, as humans we remain able to relate to the most grotesque and depraved of beings. If therefore, these monsters persist as utterly relatable and recognisable, Mark and Lalita's work signifies an ongoing inquiry into how we behave and enact learned behavioural archetypes both online and offline.
The exhibition is kindly supported by the Hotel Bauer.
Vanquished by the Fickle Goddess
Opening: February 23, 2018 | 06 PM
February 24 > March 25, 2018 | 10 AM – 06 PM
Closed on Monday. Free Entry
Spazio Ridotto | Calle del Ridotto 1388, San Marco, Venice